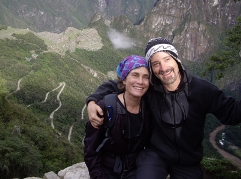 At Enhancing Balance, we believe in helping individuals take responsibility for their own health. We offer classes in Tai Chi Chuan, Qigong, and Meditation in the Milwaukee, West Allis, Wauwatosa, Brookfield, Waukesha and surrounding areas. We also specialize in Energy Balancing, Herbal Health and Nutritional consulting, Acupuncture treatments, Tai Chi Teacher Certification Programs and accredited Continuing Education Unit programs for health care professionals.
Please see the results of the Tai Chi Research Study using Tai Chi Fundamentals from Fall 2016 and Spring 2017 see details HERE. This evidenced based program is now called Tai Chi Prime!
Be sure to check out the Free Intro Schedule:
FREE Tai Chi/Qigong INTROS 2023:
Free Intro Dec 11, 2023 & Jan 15, 2024 Through Wauwatosa Rec Department at Tosa West High School Email Pat@enhancingbalance.com or call 262-271-1061 to register. If you missed these intros, please call to come try a class for free during this current session.
Also New Dreams Life and Wellness Center Fall classes start Wednesday, Jan 17th, 2024. Free Intros December 13th, 2023 or Jan 17th, 2024 from 9:00 to 9:30 Email Pat@enhancingbalance.com or call 262-271-1061 to register. If you missed these intros, please call to come try a class for free during this current session.
See Classes for the Weekly and Special Classes schedule and our Special Events page for important opportunities--.
Also See:
ARTICLES about the Veterans Administration Tai Chi Fundamentals® Project and its successes. Also an article on Treatment Blends with Care at the Milwaukee VA .

July 2014 was the second International Tai Chi Symposium. We were honored to present our VA work at this event--please see this LINK for more details and a report on the Symposium.
---
---
Benefits of Tai Chi & Qigong Practices
inner stillness

stress reduction

enhance the immune system

balance, stability

flexibility, strength

and most importantly, optimal health
Tai Chi is a Chinese 'QiGong' exercise as well as a self-defense. It can help people center the mind, calm the body and energize the spirit. Tai Chi is a gentle exercise suitable for people of all ages and abilities. It can improve balance and reduce falls, lower blood pressure, reduce stress and enhance immune function.
Proper instruction by a certified professional guarantees the practitioner will have optimum chance for improving their health and well-being through this mind/body integrative exercise. Join an Introductory Workshop session to learn more and experience this amazing healing art first hand.
In addition, we also offer...
Acupuncture and Chinese herbal nutrition consulting. Acupuncture can be extraordinarily beneficial in leading the body back to wellness by restoring the body's energy flow. Herbal nutrition and supplements offer the regenerative nutrition the body needs to maintain or regain optimal health.




Corporate Wellness workshops focusing on relaxation and stress reduction. These courses are also available to community and civic groups. Please contact us for more information and we'd be happy to offer complementary consultations for your business or group.
To learn more and experience what Tai Chi and QiGong can do for you, we offer free introductory classes that include basics & background on Tai Chi. You are also welcome to drop into an ongoing session and enjoy one free class. We hope you enjoy our site & look forward to seeing you at one of our events soon!

Learn about Tai Chi on DaoCloud.
Patricia Corrigan Culotti & Michael Culotti