SPECIAL EVENTS with Enhancing Balance:
A new Tai Chi Fundamentals Level 1-2 Adapted Program Training Course is being offered through Herzing University this May 19-20th please see Classes and Registrations page for form
Special TCF & Yang Intensives offered: The 2016-17 registration form for these see: Intensives Registration form for details: 2017 TCF dates scheduled for Feb, 18, Apr 5, June 17, Aug 16, Oct 28. Traditional Yang form Mar 9, June 14, Aug 23. Please see the Intensives form for details and costs.
Register for Memorial Day Weekend 2017 Tai Chi Camp with Lenzie Williams see below: And if you are only able to visit one night: see Thursday evening registration form below as well.
The NEW Tai Chi Fundamentals® Adapted Program is part of a NIH grant Reserach Study this Fall 2016 and this Spring 2017. We have over 200 participants 65 and older in Milwaukee, Madison and La Crosse areas receiveing FREE classes in this study. Here is the brochure with details for the Milwaukee portion: Tai Chi Study Brochure
Special Free Try-it Classes at Tosa WAC April 24 at 5pm and April 25 at 10 am.
We demonstrated Tai Chi Fundamentals at the Second Adaptive Sports Expo July 25, 2015. It was an amazing event!! Here are scenes from the First July 26th, 2014 with the VA staff and Veterans. It was a great experience! See photos from 2015 HERE!
Please check back for updates on Future trainings.
---
We are scheduled to have Lenzie Williams Return for another Midwest Tai Chi Camp at Dekoven Center for Memorial Day Weekend May 25-29, 2017. Here is the Midwest Tai Chi Camp Regsitration form for this year! For Thursday evening only See: Thursday with Lenzie
THANKS to all who made The FIRST Midwest Camp with Mr. Lo's senior student: Lenzie Williams Midwest Tai Chi Camp Memorial Day Weekend, 2014 A GREAT SUCCESS. We are honored to announce that his return: May 21 to May 25, 2015 for the Second Lenzie Williams Midwest Tai Chi Camp was also a GREAT SUCCESS!! We are looking forward to 2017!
We are so very grateful that Mr. Benjamin Lo with the help of his senior student Lenzie Williams hosted a Midwest Camp in the tradition of past camps at the Dekoven Center in Racine WI. The last Midwest camp hosted here was 2006 and this 2014 camp was an historic event. The feedback was immensely supportive and appreciative. The 60 plus participants made this a special retreat for 2014. Thank you for your support and dedication to this gifted teacher.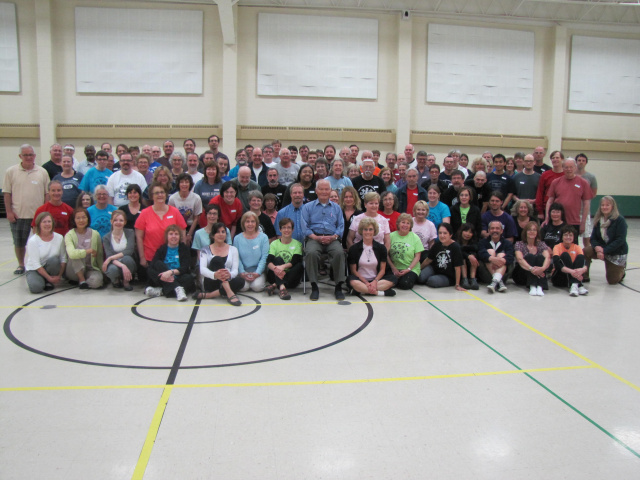 We were so honored to have Master Benjamin Lo for our Memorial Day weekend 2013!! We had an amazing training with Mr. Lo. and Lenzie Williams.
Thank you ALL attending for making this a GREAT success!
THANK YOU Master Lo and Lenzie.
---