SPECIAL EVENTS with Enhancing Balance:
Memorial Day weekend 2023, join us for the Reunion of the Last Midwest Ben Lo Retreat at Dekoven Center, Racine, WI. See below for details. This Retreat is almost full--only a few spots left! Local students will have the opportunity to attend Thursday eve (sharing session and videos) and Friday eve classes. See below
In 2023 our Wednesday Morning Tai Chi Classes are at Dreams Life & Wellness Center in Waukesha. Monday evening classes will be both in person at Wauwatosa West High School & on ZOOM. Register through Tosa Rec. Please register using form for Dreams classes on Classes & Registration page.
Special TCF & Yang Intensives offered: Please see: Intensives Registration form for details: 3 hour Intensives scheduled for April 29, August 12, September 30, November 11, 2023 for TCF and May 3, Aug 16, 2023 for Yang Style.
Please register in advance for these offerings to reserve your space.
Our Evidence Based Tai Chi Program RESULTS are Published in The Gerontologist: The NEW Tai Chi Fundamentals® Adapted Program was part of a UW grant Research Study for Fall 2016 and Spring 2017. We had over 200 participants 65 and older in Milwaukee, Madison and La Crosse areas receiving FREE classes in this study. Also here is the brochure with details for the Milwaukee portion: Tai Chi Study Brochure. See the Final Research report from the Gerontologist HERE.
We demonstrated Tai Chi Fundamentals at the Second Adaptive Sports Expo July 25, 2015. It was an amazing event!! Here are scenes from the First July 26th, 2014 with the VA staff and Veterans. It was a great experience! See photos from 2015 HERE!
Please check back for updates on Future trainings.
---
For 2023, consider joining us for the 10 year reunion of the last Benjamin Lo Midwest camp over Memorial Day weekend May 25th to May 29th, 2023. Fees include all room and board, food, classes, memory sharing and fun with old friends!
Please see the registration form here: Midwest Ben Lo Reunion camp registration.
Registration form for Friday evening is here: Friday Evening commuter class option registration
For more details or questions, contact Pat at pat@enhancingbalance.com
We are so very grateful that Mr. Benjamin Lo with the help of his senior student Lenzie Williams hosted a Midwest Camp in the tradition of past camps at the Dekoven Center in Racine WI. The last Midwest camp hosted here was 2006 and this 2013 camp was an historic event. The feedback was immensely supportive and appreciative. The 60 plus participants made this a special retreat for 2013. Thank you for your support and dedication to this gifted teacher.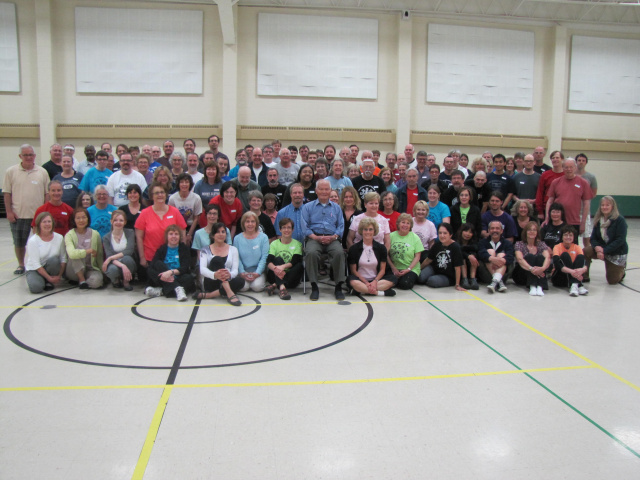 We were so honored to have Master Benjamin Lo for our Memorial Day weekend 2013!! We had an amazing training with Mr. Lo. and Lenzie Williams.
We had a GREAT camp #4 in 2017. Thanks to all who made this a wonderful success. Lenzie has agreed to continue Memorial Weekend camps on the East Coast so please check his schedule for details http://www.taichiberkeley.com/
THANKS to all who made The FIRST Midwest Camp with Mr. Lo's senior student: Lenzie Williams Midwest Tai Chi Camp Memorial Day Weekend, 2014 A GREAT SUCCESS. We are honored to announce that his return: May 21 to May 25, 2015 for the Second Lenzie Williams Midwest Tai Chi Camp was also a GREAT SUCCESS!! Thank you ALL attending for making this a GREAT success!
THANK YOU Master Lo and Lenzie.
---