Milwaukee Area Tai Chi Class Schedule! We sure hope you enjoy your tai chi training as much as we enjoy working with those who join our classes. The 2017-2018 schedule and Free Intro listing is here! All Classes include QIGONG (aka Chi Kung) This is the complete weekly schedule of ongoing community classes, professional trainings, and intensives in the Milwaukee and Waukesha areas! NOTICE: For NEW FREE Introductory classes that are offered see: Please contact us (Request Info) for a schedule if it seems that the latest one is not uploaded here. Here are current classes for NEW 2018 Classes listings so far!
Registration forms for the G-form and Enhancing Balance locations are available here: G-form-EB registration.
More about Tai Chi & Qigong: Tai Chi and Qigong are self-care practices which enhance Body, Mind and Spirit unification. These gentle Chinese exercises improve relaxation skills, mental focus, and physical alignment. Research has shown that regular practice is beneficial for balance, stress reduction, strengthening the immune system, joint concerns (arthritis), building endurance, flexibility, and alleviating chronic conditions. Classes are offered in 2 styles:
T'ai Chi Fundamentals® (TCF) offers a simplified, systematic approach for mastering T'ai Chi basics that maintains the integrity of traditional form and principles. The program introduces components of T'ai Chi practice that foster health of mind, body and spirit. This program can serve as a complete exercise program and can provide solid basic training for those who wish to progress to the more complex forms of traditional T'ai Chi. As of 2015 we now have new trainings, books and videos for all of the Seated, Walker and Side support versions of the Tai Chi Fundamentals Adapted program. See brochures below.
Traditional Yang Style T'ai Chi forms incorporate complex movement patterns throughout the entire sequence which have martial applications. This traditional Form developed by Master Cheng Man-Ch'ing is expertly designed to massage the whole acupuncture energy system of one's body. T'ai Chi principles promote harmony in human interactions and as students progress the element of Tui Shou (Sensing hands or Push hands) will be introduced. Tui Shou is a gentle way of practicing the martial applications of T'ai Chi. It incorporates aspects of letting go of one's ego to better know oneself and for successful conflict resolution.
All classes include Qigong and Meditation exercises.

---
The Tai Chi Fundamentals® (TCF) Training Program Courses
A simplified tai chi form system that has been analyzed by Physical Therapists and Occupational Therapist to offer medically recommended tai chi movements. These Training Seminars are designed to prepare participants for certification to teach TCF and offers Health Care Professionals continuing education credits. Both Wisconsin Physical Therapy Association (WPTA) and National Certification Commission for Acupuncture and Oriental Medicine (NCCAOM) have formally approved these courses for credit. Please see Tricia Yu's site Tai Chi Health for other TCF trainings as well: http://www.taichihealth.com/seminars.html
Registration form for TCF Adapted Program Training Course One can be found at the following link:

TCF Course One Registration

(letter size)
NEW for 2016: TCF Course Two Adapted Program Short Form Training please see:
Registration form for Course Three Original TCF Form Performed Standing can be found at the following link:

---
Join us for Intensive Study. These workshops allow participants to focus for a concentrated session on aspects of the tai chi forms, mind/ body principles or techniques. They recieve detailed correction and support to improve their practice. These are weekend 1/2 day courses. Register early, class sizes are limited to small groups for quality instruction. You may choose Traditional Yang style or TCF intensive study.
Registration for Intensive Study workshops are found here: Intensives Registration form
Tricia Yu and Pat Culotti hosted a 1st and 2nd time special Traditional CMC Yang style Intensive Retreat at the Dekoven Center and look forward to 2018 as well.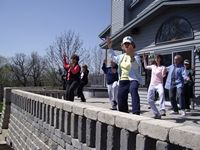 Tricia Yu and Pat look forward to our third Instructor and Advanced TCF and CMC retreat in May 2018. Please register early to reserve your spot!
The Dekoven Center, Racine, WI May 3 to 7, 2018. For TCF Instructors or those ready to test: TCF Instructors Retreat Form
Yang Style CMC Retreat for 2018 May 3-5th, 2018: Open to ALL Details and costs on this: CMC Registration Form